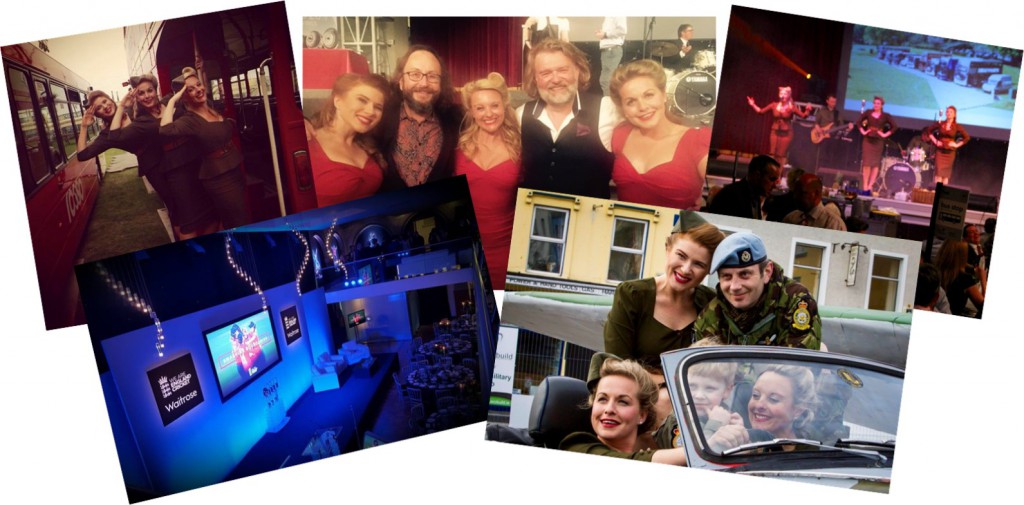 Over the past few weeks our wartime pin-ups, The Bombshell Belles, have been wearing down their heels and Ruby Woo lipsticks at a number of notable events across the land – and overseas.
Kicking off the start of the month, the Belles returned to Listowel Military Tattoo for the Bank Holiday event which commemorates the Irish men and women who made considerable sacrifices whilst in the line of duty. Having performed there for several consecutive years previously, they knew to expect a nostalgic weekend of military re-enactments, WW2 vehicle displays, street parties and, of course, an evening of 40s-style entertainment at the Hangar Dance, where they performed their trademark harmonies.
With a brief return back to the mainland, the Belles then made their way over to the Isle of Man for the Album conference at Villa Marina. Joined by the Bombshell Band, they were greeted by glorious sunshine as they arrived at the annual event for the Association of Local Bus Managers and were delighted to see the vintage buses, trams and trains on display. Even more exciting for the Belles was when they stumbled across culinary dreamboats, The Hairy Bikers, who sat at top table, swaying along as they were serenaded by Bombshells Katie, Stacey and Emily.
Tummies filled with mammoth Manx breakfasts served on shovels (not courtesy of Hairy Bikers, Simon and Dave), the Belles then headed home before going to Leeds for the England Team Awards Dinner 2016. Hosted by Clare Balding, the prestigious event brought together the best players from the England Cricket Team for an evening of highlights from the past year, award presentations and live entertainment – which was happily supplied by our very own Bombshell Belles.
In between these wonderful events, our Belles have still managed to cram in rehearsing for the new production, "In The Mood" which features The American Patrol Swing Band. An upbeat show packed with memorable music from the 1940s and 50s, it is the latest creation from our director, Katie, who has been working tirelessly to perfect the running order, musical arrangements, choreography, costumes and everything else that is involved in producing a show of the highest Revival Live UK calibre. It all came together in time for the opening show at Wicksteed Park on 17th May which was well received by the first audience of the season.
All this and it's not even the end of the month… But, there's no sign of the Belles applying the brakes any time soon as they continue through May and June with a run of daytime performances with "In The Mood", return to Coombe Abbey Hotel for more "Back to the Forties" evenings, appear at the Daily Mail Chalke Valley History Festival and the 1940s Summer Ball at Dallas Burston Polo Club… And there are lots of private functions along the way!
Whew! The Bombshell Belles are certainly busy but there's room for fun along the way and they always make time for a 'Beer Barrel Polka'. Roll out the barrel…