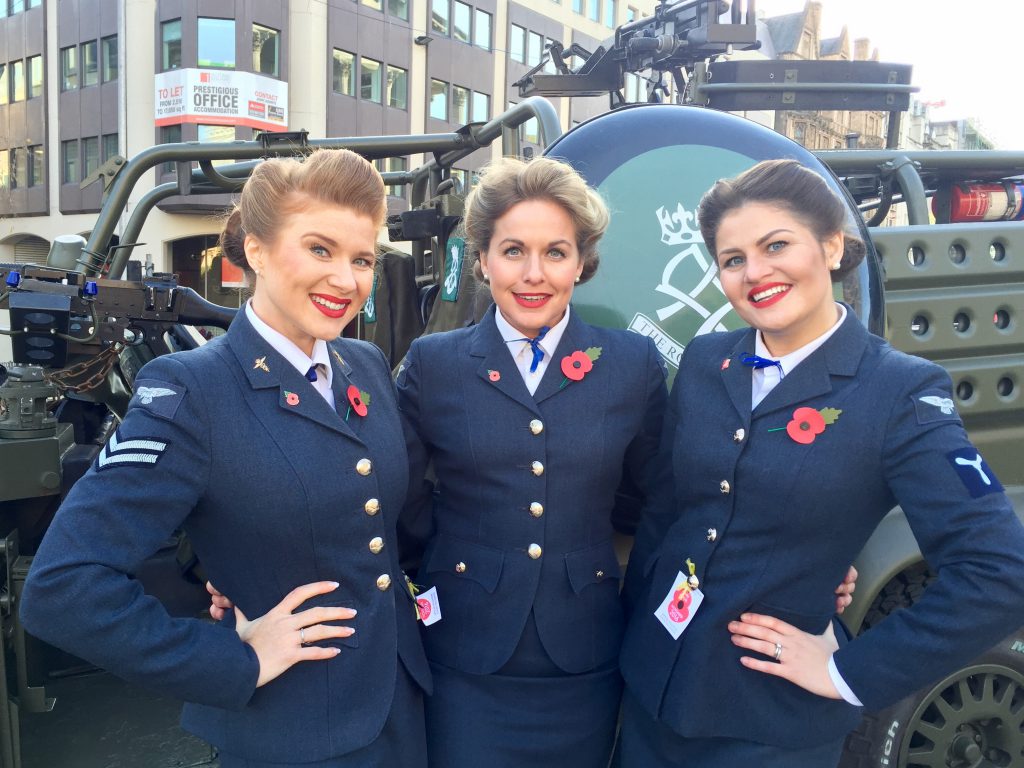 The lead up to Remembrance Sunday is always a busy time for The D-Day Darlings, who find themselves singing at a number of events each year for The Royal British Legion, UK Armed Forces and many other organisations looking to commemorate the lives of our soldiers both past and present. And this year is certainly no different.
This month, our Forces' favourite sweethearts have been rallying up the troops nationwide to come together and get involved with the Royal British Legion's Poppy Day Campaign, which launched in Birmingham last week. Together with flash mobs and military bands, the Darlings marched to the centre to fill the city with wartime music and nostalgia.
Whilst there, they were greeted with love and cheers from onlookers getting in to the spirit of the occasion, singing and dancing along with their harmonious renditions of 1940s songs. It was also a successful day in terms of fundraising and we are eagerly awaiting an update of the total the Darlings have now raised for the Legion since the last tally which stood at over £30,000.
Continuing their efforts, the songbirds will be collecting donations during their performances at the Elgin Hotel Forties Weekend in Blackpool this coming weekend and at RBL Worcester Park on Remembrance Sunday.
The D-Day Darlings are proud to be a longstanding partner of the Poppy Appeal since forming 10 years ago and not only hope to keep the music of wartime Britain alive but the history of the nation. Of course, the greatest honour is being able to do both whilst paying tribute to our veterans so long may it continue.
So, as the 40s trio gather their collection buckets and hit the road for various military, 40s and RBL events ahead, we'd like to kindly ask that you take a moment to reflect on the true meaning of the poppy. It's a symbol of hope, remembrance. Wear your poppy with pride – our Darlings certainly will!
If you'd like to join us at any of our upcoming events you can find more details here. As ever, we'll be donating £1 from each D-Day Darlings CD sold to the Royal British Legion – to get your copy, please click here. More information about the Royal British Legion Remembrance and Poppy Day events can also be found on their website here.