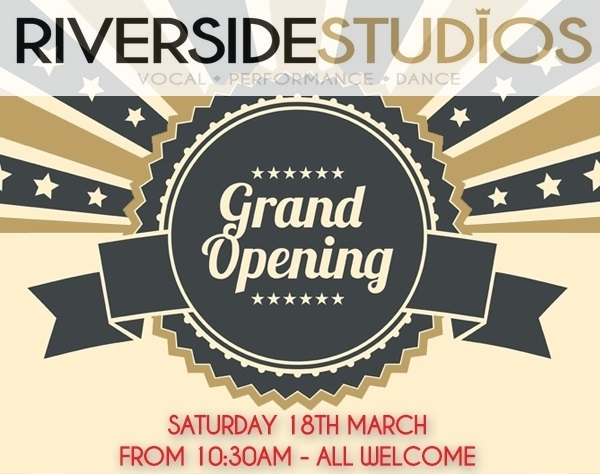 After months of planning and preparation, it will soon be time for the Revival Live UK creatives to push aside their paint brushes and get powering up the microphones because on Saturday 18th March, Riverside Studios – the new vocal and performance academy in Kingsbury – will be throwing open its doors.
The day of the academy's Grand Opening will find demonstrations of our vocal classes being performed by our industry-leading vocal coaches, as well as special launch day offers for our vocal, dance and fitness classes.
We're expecting many a familiar face to attend on the day as local MP Craig Tracey has confirmed he'll be popping along to cut the ribbon at around 11am. Kingsbury Councillor Andy Jenns will be attending too and there might even be local press coming to raise a toast with us as we prepare to guide others towards achieving their own performance aspirations.
Of course, the Revival Live UK and Riverside Studios team will be on hand to take all those attending on a tour around the studios, showing off our state of the art equipment and first-class facilities up close to the public for the first time.
Our expert vocal coaches Katie Ashby, Genevieve Sylva and Emily-Jane Brooks will be providing some live vocal performances and presentations throughout the day, whilst our Dance and Fitness instructors, Megan Jones, Paul Neary and Thomas O'Flaherty will be talking through all of the exciting classes coming to the studios, including Yoga, Swing, Salsa and more.
Guests will have the opportunity to reserve and book any classes or courses that take their fancy, and can sign up for one or more of our free taster classes which will be running throughout the week following our opening.
So, come along from 10.30am and enjoy a champagne, bucks fizz or orange juice with our academy directors and coaches, and be the first to hear about all the exciting plans we have lined up for Riverside Studios. Parking is limited so please plan ahead. Any questions, feel free to get in touch – otherwise, we look forward to greeting you on the day of our launch!