It's been a whirlwind few weeks for everyone at Revival Live UK as our wartime troupe, The D-Day Darlings have taken the nation by storm, singing their way through to the final of ITV's Britain's Got Talent.
Having landed their place in the live shows after a successful audition, the 9-piece act found themselves thrown into a media frenzy, receiving requests to appear on TV and radio interviews, as well as countless enquiries and messages of support from people all over the UK and overseas.
Amidst the excitement, the Darlings continued to fulfil their prior commitments, whilst preparing their performance for the live semi-final. Prior to their appearance on Bank Holiday Monday, we were delighted to hear from our long-time friend, Dick Goodwin, who has previously booked The D-Day Darlings to perform for the Taxi Charity For Military Veterans and the Chelsea Pensioners.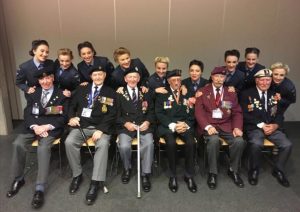 Knowing how much it means to the Darlings to commemorate and celebrate the soldiers who have served our country, Dick wondered whether we would be interested in war veterans accompanying them on stage for the semi-final. Of course, it was an overwhelming honour and the Darlings were overjoyed to have familiar heroes standing beside them as they serenaded the BGT audience and viewers with patriotic anthems, 'Rule, Britannia!' and 'Land of Hope and Glory'.
It was a magical moment, and indeed a memorable one, an evening made even more incredible when the judges voted The D-Day Darlings through to the final.
Following the initial shock, subsequent celebrations and a surreal week of rehearsals and interviews, the Darlings are now looking forward to the BGT final which is set to be an absolute blinder of a performance. Naturally, we would have been elated to have had the original Forces Sweetheart, Dame Vera Lynn, performing alongside the Darlings but they will certainly pay tribute to their heroine, who has been such a massive inspiration and supported the act throughout.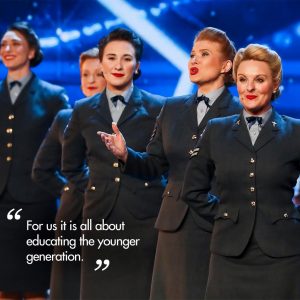 It has certainly been an incredible experience and it would be an absolute dream come true for each of the Darlings to perform at the Royal Variety Performance in front of The Royal Family.  And, whilst we of course kindly urge everybody to watch and vote for The D-Day Darlings on Sunday, we would also like to reassure supporters that whatever happens come Sunday evening, the Darlings have not and will not lose sight of why they auditioned for the show.
The D-Day Darlings intend to continue their quest to keep the wartime era alive in the hearts and minds of generations to come. They are so proud to have raised almost £40,000 for the Royal British Legion to date, and they will carry on raising funds and awareness for RBL and other worthy causes which help our nation's heroes and their families, both past and present.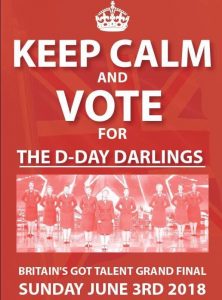 We would again like to take this opportunity to thank everyone for following The D-Day Darlings along every step of their journey, and for all your generous messages of support which are truly appreciated. And – you knew it was coming – we'd like to ask that you look out for their performance on Sunday 3rd June, which will be kicking off at 7.30pm on ITV.
If you want to see the Darlings go all the way to the Royal Variety Performance, please remember to send in your votes! Details on voting can be found here, though if you download the Britain's Got Talent 2018 app, you can vote up to 5 times and it won't cost you a penny (available on Apple devices here, or Android here).