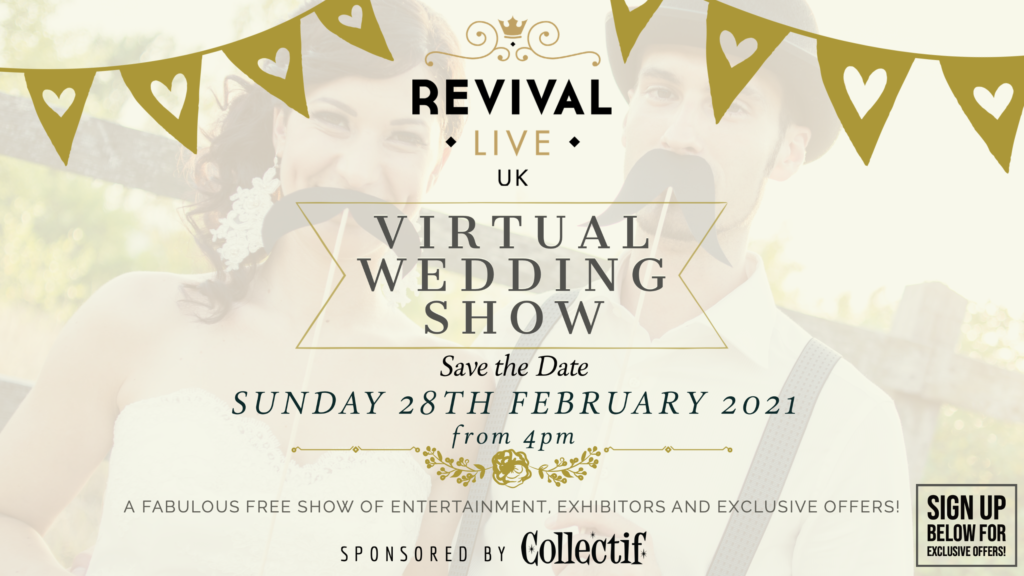 Revival Live UK LOVE weddings and with a heartbreaking year of cancelled Ceremonies & Reception Parties, we're delighted to be bringing our Virtual Wedding Show on Sunday 28th February at 4pm, where we'll be showcasing our stunning fleet of bespoke Wedding Entertainment ready for the long awaited return to the Wedding season.
The Brit Certified D-Day Darlings, Vintage Vocal & Piano, our dashing male trio The Bombshell Beaus, the Stunning Bombshell Belles, the glitzy Hollywood Starlets and our explosive Band Oceans 7 will all feature in our show, Plus we're joined by a handpicked range of suppliers, from beautiful venues to stunning wedding cars, all proudly showcasing their business to you.
From the comfort of your living room (and of course with a glass of fizz in hand), you can peruse all we have to offer in our extraordinary live show with; Tips & Advice, Complete Entertainment Packages, Exclusive Show Offers and Discounts, PLUS Prizes worth over a whopping £3,000 in our show day competition!!! (Prizes to be announced Valentines Day).
Presented by the lead singer of the D-Day Darlings and Director of Revival Live UK Katie Ashby, who has performed at countless Weddings over her 25 year career and provided more Entertainment Packages than you can throw a bouquet at, Katie's fun and friendly personality will put you at ease straight away, she'll explain with clarity all you need to know about booking your Wedding Entertainment with us, and our award winning songstress will even serenade you with a special song or two on the day.
We're thrilled to announce that Collectif Clothing are our official sponsors for this event and our collective of vintage style performers will be flaunting some of Collectif's stunning collection in a fabulous fashion scene!
We're so looking forward to entertaining you at our Virtual Wedding Show and we looking forward to providing the soundtrack to the most special day of your lives.
With Love,
Team Revival x
Sign up below for exclusive offers and to enter our competition to win prizes worth over £3000!